If you travel to the town by car, please bear in mind that the parking capacities in Pec are limited.
The town is located in the Krkonoše National Park and some higher-located pensions and mountain huts are accessible only with a purchased entry ticket in summer and not at all in winter. That is why it is advisable to check the possibility of parking with your lodging provider. The entry ticket can be purchased from machines located near the Uran pension in Úpa and near the Zelený potok car park in Pec (children convalescent home Růženka).
During any season you can park your car at any of the five public car parks or five smaller areas designated for parking.
Parking pricelist:
Parking map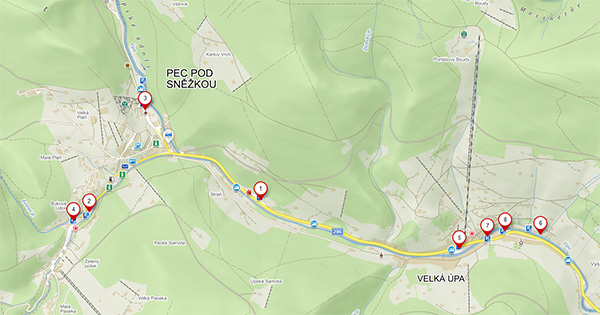 Smaller parking areas with parking meters:
Infocenter TURISTA, Pec pod Sněžkou, CZK 20 per hour
Hospoda Na Peci, Pec pod Sněžkou, CZK 20 per hour
Municipal office, Pec pod Sněžkou, CZK 20 per hour
Restaurant u Žraloka (Shark), Pec pod Sněžkou, CZK 20 per hour
Guesthouse Relax, Velká Úpa, CZK 20 per hour
Hlušiny (near Fire station), Velká Úpa, only in winter, CZK 40 per day